WHO: Art On The Way—the new urban museum
WHAT: "Spiral Plexus"—A new large-scale, kinetic, temporary, site specific installation
WHERE: 828 West 6th Street  Austin, TX 78703
WHEN: 24/7, March 11 thru June 9
Free Opening Reception with the artist and team members March 11, 4:00 to 6:00pm
at the Whole Foods Culinary Center on 6th Street; just across the street from site
WEB: www.artontheway.com
MEDIA: For details, photos, and interviews contact [email protected] and 512/904.9928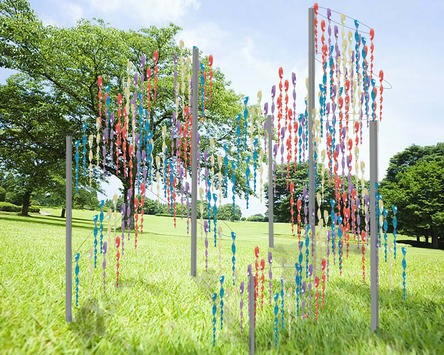 Art On The Way announces their third, public art installation: "Spiral Plexus" comprises 2,000 acrylic wind spinners suspended on GSD&M lawn
New temporary work's creation, exhibition intended for community-building
AUSTIN, Texas—Art on the Way—a "new urban museum"—announces their third, site-specific, temporary public art installation: "Spiral Plexus". This striking, large-scale work was created to bring wonder and surprise to the public (including SXSW participants), was conceived by artist Heather Tolleson.
The three, huge installations, which will be positioned betweens the palms on the GSD&M lawn, is presently being assembled with 2,000 acrylic wind spinners, plus hooks and swivels on a steel armature creating an intricate, swirling tapestry of color and movement that will move and sparkle with the wind, reflecting the Texas sunlight off the multicolored and spinning metallic twisters.
Standing 12 feet tall, 9 feet wide, and 15 feet long, this eye-catching kinetic temporary sculpture is sure to mesmerize passersby—a joyful statement of pure visual delight.
Artists from Picasso and Duchamp, Pollock and Warhol, have made art out of found objects and common, commercially available materials. Tolleson's "Spiral Plexus" takes 2,000 acrylic wind spinners customarily used on porches or hung from trees and re-imagines them into an exuberant, colorful sculpture outside of GSD&M—a high traffic area and checkpoint during South by Southwest.
Heather Tolleson is painter, sculptor, and mixed-media installation artist living and working in Austin. Tolleson creates work that explores materiality, scale, formal objectivity and personal revelation. She was recently awarded the Austin Visual Arts Association's "Artist of the Year" for 2009.
Art on the Way's first two projects were Steve Dubov's "Barton Barriers"—a humorous temporary installation over 100 feet long, 12 feet wide, and 10 feet high, composed of 50 Yodock water-filled road barriers at South Lamar and Barton Skyway, and "Keep Austin Surreal" by artist Gary —a colorful, whimsical temporary mural for created from over 5,000 industrial "Put-in Cups" in a chain-link fence at a bike shop on South Lamar and Barton Springs Road.
An opening reception for the public will be held on Sunday, March 11,from 4:00 to 6:00 pm at Whole Foods Culinary Center, just across the street from the site.
To arrange for a docent- or artist-led viewing for schools, companies, art groups, neighborhood associations, the public can contact Steve Dubov or Heather Tolleson at 512/385-1115 or steve@nullatelier3-d.com
About Art On The Way
Art On The Way (AOTW)is an innovative nonprofit organization committed to transforming public and private underutilized plots of land throughout Austin into sites for contemporary visual art. AOTW reclaims this land and invigorates these city-sites by installing a series of unique public artworks created by Texas artists directly for these forgotten or overlooked portions of Austin neighborhoods. This is an invaluable opportunity for artists to get involved in the community through the creation of public-scale works, and for community neighborhoods to get involved in the selection and maintenance of contemporary art pieces. These pieces will not only beautify unused and undeveloped land sites throughout Austin, but also become a source of pride for neighborhoods, helping define their collective sense of community identity.
Their mission is to enhance Austin's visual and artistic landscape, all in a manner thouroughly in keeping with the city's enthusiasm for creativity, community, and ecology. AOTW believes that art enriches lives, and that this enrichment should be available to everyone. Art should be everywhere.
Art On The Way is funded and supported in part by the City of Austin through the Cultural Arts Division and by a grant from the Texas Commission on the Arts and an award from the National Endowment for the Arts, which believes that a great nation deserves great art.
###
Posted In
Share This Story